Posts filed under 'Uncategorized'
The Chilean Amphibian Conservation Center team had another publication come out:
Parada, D.E., D.B. Fenolio, A.P. Olivares, and J.J. Nuñez.  2017.  Insuetophrynus acarpicus Barrio, 1970 (Anura:
Rhinodermatidae): new distribution record at the edge of the Valdivian coastal range, southern Chile.
      Check List 13(1): 1–4.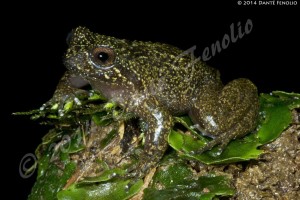 The Chilean Amphibian Conservation Center team performed an amphibian survey along the coast of southern Chile in January.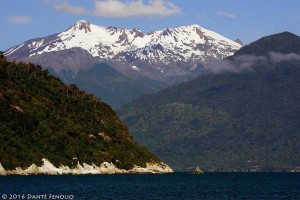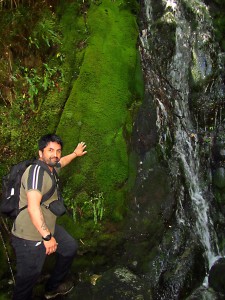 To the left you can see one of the survey team members with a curtain of moss.
We also got to see a lot of amazing amphibians, including the Emerald Forest Frog (Hylorina sylvatica).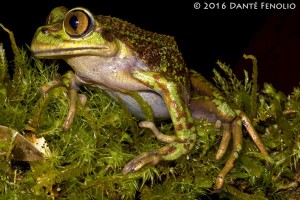 It's is always fun to find Dawin's Frogs (Rhinodema darwinii) in the field. On amphibian surveys last year, we encountered this male with babies in his vocal sac.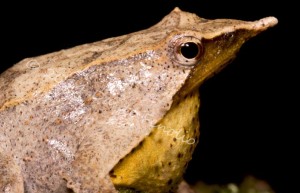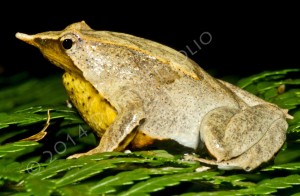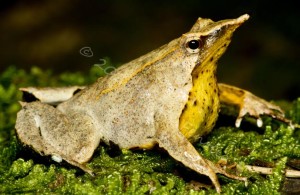 Leeches are not uncommon encounters in the field.  Chile has both parasitic and non-parasitic terrestrial leeches.  One of the parasitic species is seen below feeding on a human.  One of the non-parasitic species (Americobdella valdiviana) is depicted below…this species eats earthworms.  They grow to nearly .3 meters in length (~ a foot in length).
We devoted a considerable amount of our field time last year to surveying streams for the Mehuín Green Frog, Insuetophrynus acarpicus.  This species has suffered from habitat loss and is widely considered one of the most endangered frog species in the world.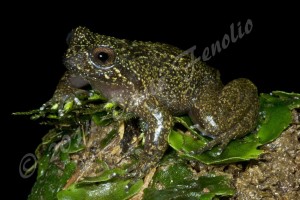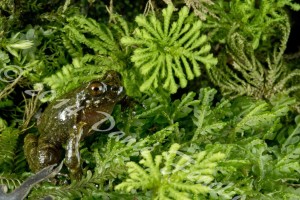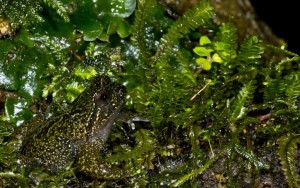 Late in 2014, our team performed an amphibian survey at Oncol National Park, Los Rios, Chile.  One of the amphibians encountered was this mature adult male Alsodes norae.  When males are ready to breed, they develop the spines on their chest that can be seen in one of the images below.  Their forearms also become larger and more robust.  These things presumably allow males to hold onto females in the prereproductive embrace known as "amplexus."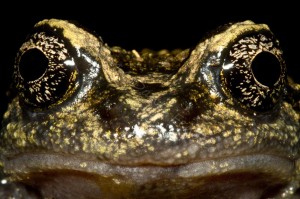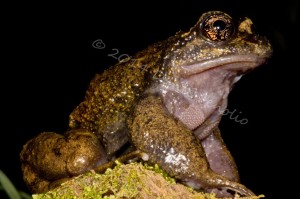 On an amphibian survey in south Chile (November 2014), with Dr. José Nuñez and his graduate students, we encountered a breeding aggregation of the Chilean Widemouth Frog (Calyptocephalella gayi).  Their tadpoles are among the largest in the world.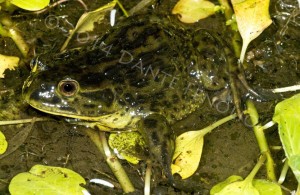 While we work in the field with endangered amphibians, we often get to see spectacular wildlife.  Here are some examples from recent field expeditions:
More soon – planning more field work
There are am lot of amphibian species that are in decline in Chile.  One species that is widely recognized as critically endangered is the Mehuín Green Frog (Insuetophrynus acarpicus).  We work with a biologist, Dr. José J. Nuñez, to determine the current distribution of this species and if remaining populations have amphibian diseases.  Several key problems threaten this species: (1) Loss of habitat is the main issue.  Most of the coastal rainforest is gone. The few remaining tracts of forest where this species is found MUST be saved.  (2) Emergent infectious amphibian disease has been found in the area where these frogs still exist.  (3)  There are few conservation programs of any kind promoting captive assurance colonies of any amphibian species in Chile aside from Darwin's Frogs -we are doing exactly that.
More to come on this endangered species and our work with it.